I've had a breakthrough.
Follow me. The other day, my girl, Kim, gave a great tip. Set a timer for 10-15 minutes, clean with the kids as fast as you can and then be done for the day. And then, in a moment of silence and pondering, the heavens opened and a ray of light shone down upon my face, illuminating the grease in my hair from several days of not showering.
"Maaaaintaaaaain the messssss," it creepy-whisper-called.
Don't clean the mess—maintain it. How could I have been so stupid? I've been beating my head against a wall all these years trying to keep a spotless home, when all I was supposed to do was maintain a lived-in home. This changes everything.
Maintain the mess. Wow.
I'm taking the day off from cleaning and you should, too. Peace out, ladies.
Maintain the Mess. Merry Christmas. Get it? Kinda sounds the same? No, not at all? Oh. My bad. Yeah, I'm a nerd.
P.S.
What a perfect opportunity to document your house and post it for our Mom Exhibit Blog Hop. Don't be a weenie. Just do it! Ok, fine. If it's too intimidating, which I know it is, email me a pic or two and I'll post them for you on here. I'll even leave your name off. I'm serious. Here's my email: cinderelladuty@gmail.com. I'm waiiiitiiinggg...and checking my email every 3.2 minutes.
P.P.S.
The "Mom Exhibit" will be open December 1-31, 2011. Feature one of my buttons on your site and I'll do the same for you. Email your 150x150 pixel (or similar size) button to cinderelladuty@gmail.com.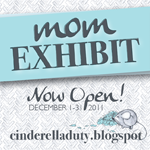 <a href="http://cinderelladuty.blogspot.com" target="_blank"><img src="http://i1135.photobucket.com/albums/m631/cinderelladuty/momexhibitnowopen.png" alt="CinderellaDuty" width="150" height="150" /></a>
<a href="http://cinderelladuty.blogspot.com" target="_blank"><img src="http://i1135.photobucket.com/albums/m631/