I love having friends in my home, especially if I know you're coming. I'll usually tidy the living room a bit and make sure there's nothing gross in the visible areas, like a stinky diaper.
However, there are no words to describe the nauseated feeling I get when you have to run upstairs "real quick" to grab your child. This little commercial clip portrays it perfectly:
*Disclaimer: I don't encourage the show, I Hate My Teenage Daughter. It's portrayal of mom/daughter relationships is terrible.*
You see, I avoid the upstairs. The mess is out of control. It slaps you in the face as soon as you reach the top of the stairs.
You turn to grab your kid and gasp because you can hear your child playing in the girl's room but you can't see them! She has so much fun in her room, tossing all the clothes out of her drawers and all the toys out of their bins. I just accept it. Honestly, we clean it about once a month because she's a kid and won't stop playing with everything. Could I really expect her to do that?
And then, as you're trying to evacuate, you glance in the boy's room, which his sister plays in as well. She has just as much fun in his room as her's. Thankfully, he doesn't have much stuff...yet.
And then...
Oh yes, she does. If I forget to close the door, she has a BLAST in my room! Baahhh!!! I laugh out of insanity. (No pics of my room now. I'm saving that gem for another day. Lucky you.)
So, that's why I freak out a little when people go upstairs. I feel like the mess screams, "I'm an out-of-control mom-slob." And then I see your scarred eyes thinking, Eww. Oh my. Dear me. Heh...heh. Big Gulps, huh? Welp, see ya later!
I'm not the only one, am I? Am I?! You do realize that at some point in the next month, you're going to say, "Oh! Ooooh. Well, I'm not THAT bad." I'm ok with that as long as it helps you feel better about your momming abilities.
And prepare yourselves, friends. Because in a few days, we're gonna link up and share our dirty little secrets with everyone! It's exhilarating, I promise.
Oh, and as I'm writing this post, the boy ate Play Doh and the girl yelled, "Mom, I just keep forgetting to pee in the potty today!"
P.S.
The "Mom Exhibit" will be open December 1-31, 2011. Feature one of my buttons on your site and I'll do the same for you. Email your 150x150 pixel button to cinderelladuty@gmail.com.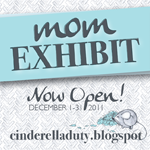 <a href="http://cinderelladuty.blogspot.com" target="_blank"><img src="http://i1135.photobucket.com/albums/m631/cinderelladuty/momexhibitnowopen.png" alt="CinderellaDuty" width="150" height="150" /></a>
<a href="http://cinderelladuty.blogspot.com" target="_blank"><img src="http://i1135.photobucket.com/albums/m631/cinderelladuty/m