"Clean your ENTIRE house in 1 hour" was the claim of an
article
on Yahoo last week. My eyes lit up as I clicked on the link, hoping for a breakthrough. The article states that if you spend 9-15 minutes in each room, working your way down and out, you'll be done in 1 measly hour.
I'm going to re-name this article, "Clean Your Childless Loft In Less Than One Hour."
And just to prove my point, I tried it. Here's how it went down.
I started in the catch-all of the house, my bedroom. I hope this makes you feel reeeeeally good about yourself. Otherwise, I've published these humiliating photos in vain.
As you can see, 10 minutes was only enough time to move 1/8th of the mess onto my bed. It usually takes 1 hour to clean my room and 10 minutes to fill it up again with all the laundry I don't have time to fold at the moment.
So, I gave the cleaning challenge another shot in the bathroom.
Verdict? To clean the bathroom in 10 minutes, you must decide which is worse: skids in the potty or soap scum in the bathtub. On to the living room...
If having a clean home 24/7 means having no children, then bring on the mess! I cherish these days with my little ones. My home says, "I have happy, energetic, curious children living and learning here."And when they're grown and living on their own, I know I'd trade the tidiness and quietness for their creative explosions any day.
P.S.
The "Mom Exhibit" will be open December 1-31, 2011. Feature one of my buttons on your site and I'll do the same for you. Email your 150x150 pixel (or similar size) button to cinderelladuty@gmail.com.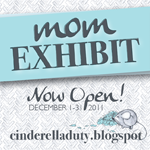 <a href="http://cinderelladuty.blogspot.com" target="_blank"><img src="http://i1135.photobucket.com/albums/m631/cinderelladuty/momexhibitnowopen.png" alt="CinderellaDuty" width="150" height="150" /></a>
<a href="http://cinderelladuty.blogspot.com" target="_blank"><img src="http://i1135.photobucket.com/albums/m631/